Pre-Departure Checklist for Graduating Students and Departing Employees
Before You Leave...
If you are leaving BHMS, you can copy the contents of your Google Drive and Google Email to a personal Google account. Please be aware that BHMS will retain copies of your data per our data retention policies and may make some or all of this data available to other employees to aid in the performance of their job duties.

By default, all accounts are disabled on the employee or student's last day at the school.  It is important that you use this guide PRIOR to your last day to transfer files that you wish to share with others at BHMS to shared departmental drive (in the case of an employee) or that you want to make a copy of for your personal use.

Preparing to Copy & Transfer
Get organized
Prior to transferring your files, take time to organize your folders and remove files you do not want to transfer. Once you are ready to transfer files using Google Takeout, your files will be copied into your personal account maintaining the same folder structure / organization as they have in your school account. If you have a large number of files, it will take some time for Google Takeout to copy the contents of your entire Google Drive.
Transferrable Content
What WILL be Transferred:
What will NOT Transfer:
    Images stored under "Google Photos"

    "Shared with Me" Files that have NOT been "Added to Drive"

    Google Sites, Google Forms, Google MyMaps & other third party content in Drive
Personal Google account
You will need a personal Google account (must end in @gmail.com) to transfer your files to. If you don't already have one, visit https://accounts.google.com/SignUp to create your free account (if you are a student, you must ask a parent for permission to create an account).
Using Google Transfer to Copy and Transfer Your Files
After you have logged into your BHMS Google Account:
 
Enter the email address of the destination Google account - this is where your files will by copied and saved to.
NOTE: A personal Gmail account can be used OR, in some cases you can transfer to another Google School account but only IF that school has this service turned on.

Click "Get Code" and a code will be sent to your personal account. NOTE: This code is only active for 24 hours.

Go to your personal email & copy the verification code to paste into the Takeout Menu

From your school account, return to Google Transfer Page and paste in the verification code, then choose "Verify".

Choose the content you want to copy.
You will have the option to copy Google Drive contents as well as email messages. Gmail contacts and to-do lists will not be transferred. Click "Start Transfer" to initiate. This process can take up to a week, but you will receive an email notification in your personal Gmail account once it's complete.
Details about Your Copied Files & Email
Gmail:
All copied messages will be labeled with your school account name and the date you started the copy process.

Contacts and tasks will NOT transfer
Google Drive:
All content will be copied into a folder labeled with your school account name and the date you initiated the copy process.

You will become the owner of ALL the copied files. This does NOT change ownership of the original files in your school account that may be shared)

Not all shared files copy over - only those that you have "Added to Drive"

Comments are copied but revision history is not

Permission on copied files will be set to "private", but you can change the sharing settings if you choose.

All of your school content will remain in your Google Drive so this process can be used to backup Google Drive anytime.
Things to Keep In Mind
The copy process usually happens within a few hours, but it can take up to a week.

Copied files might appear in batches on your Google Account during the copy process.

When your files are finished copying, you'll get a notification email.
But, I want a copy other data like Contacts, Calendar Items, Google Photos, Google Chrome Bookmarks, Google Profile Info, Google Sites, etc....
Don' fret, this can be done as well.  Follow the instructions below to download copies of this data.
Using Google Takeout to Download a Copy of Certain Data
After you have logged into your BHMS Google Account:
 
Go to takeout.google.com
Click on Deselect All under the Product heading
Scroll down the list and check the items that you want to download
Keep in mind that if you followed the steps above you DO NOT need to select Drive or Mail

For more details about each service, click on the buttons below that service. For example, the Multiple Formats button under Chrome tells you which formats each type of data will be exported in and also has an option to select which Chrome items to download.
Click the Next Step button at the bottom and then choose the file type, frequency, and destination of your data export.

Delivery method: You can choose to get a download link delivered via email or add your data to a cloud storage service such as Google Drive, Dropbox, OneDrive, or Box.

Frequency: Choose to export your data all at once (one export).

File type: Choose to download your data in a zip file or a tgz file (these are compressed file formats and most people choose a zip file).

File size: Use the dropdown menu to choose how large you want your Google archive files to be. Files larger than the archive size you select will be split into multiple files.

Click the Create export button.

The Export progress window will open. It may take some time to create your Google archive (maybe hours or even a couple of days if you're downloading data from lots of services). But typically it'll be created the same day you make the request.

You may receive an email from Google notifying you that an archive of Google data has been requested and asking you to verify that you made that request.

Open the email, click Download archive, and follow the instructions to access and save the exported archive. You'll need to verify it's you by using your Google account password.

Your files will be made available to download for seven days. After that, Google blocks access so that someone else can't download your data.
But I just want to transfer the ownership of a file or folder to someone else at BHMS...
You can do two things with regard to files and folders.  The first (the easiest procedure for files that you want to share with colleagues) is to move them to your Departmental Shared Drive.  To do this, simply organize all of the files to be moved to a shared drive into a folder called "User Shared Files" (where the word User is replaced with your name).  Once this is complete, you can move the entire folder to the shared drive.  To move a folder or file,
Right-click the item you want to move.
Click Move to…
Choose or create a folder, then click Move.
Any files that you move into a shared drive, will be owned by the shared drive and will not have an individual owner any longer.
If you want to change ownership of a specific file or folder, follow the procedure listed below.
Change owners
Open Google Drive, Google Docs, Google Sheets, or Google Slides.
Click the file you want to transfer to someone else Share or Share .
To the right of a person you've already shared the file with, click the Down arrow .
Click Make Owner.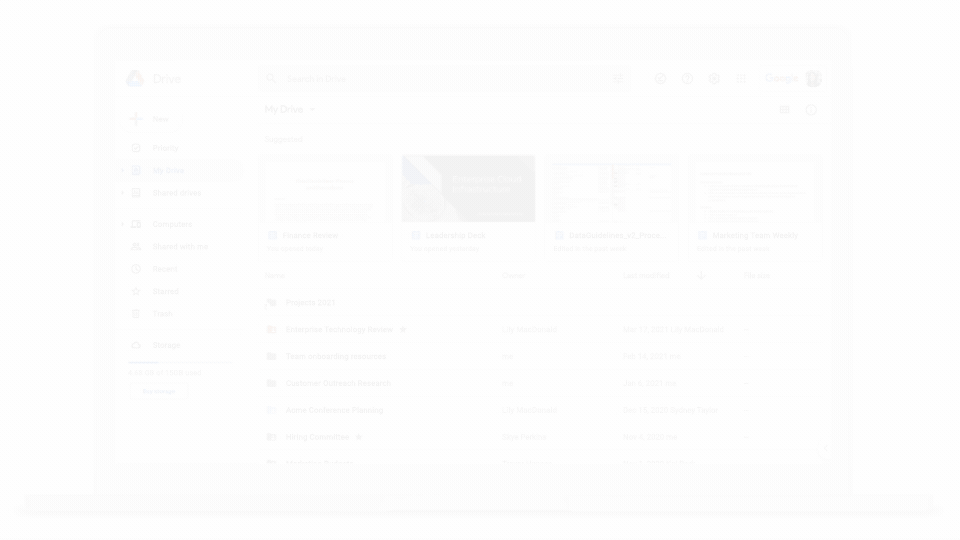 Tip: To cancel the ownership transfer request, next to the person you shared the file with, click the Down arrow
Cancel ownership transfer. When you click the Down arrow
, you can change each participant's permissions.
You remain the file owner until the pending owner accepts your invitation. After the pending owner accepts your invitation, you can edit the file until the new owner changes your access.
You can ONLY transfer ownership of files to other members of the BHMS community.
If you have any questions, please contact the Help Desk at (929) 359-7123.